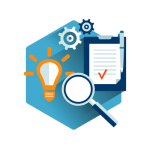 We operate successfully in several industrial sectors such as Automotive, Electromedical, Electronics and Industrial Refrigeration.
The continuous search for new solutions has led us to introduce low pressure moulding in our range of services, on which we have been investing energy and resources for over twenty years. Through this technology, we are able to guarantee an excellent sealing and protection of electrical and electronic components against external agents such as dust, water etc.
Thanks to our highly qualified staff, supported by our Technical Department we are able to address any customer's need, offering consultancy for the realization of custom projects and solutions, ensuring maximum support in all phases of production: starting from the design, following with prototyping and pre-production series, up to starting-up the technology directly at customers' premises.
High flexibility, the constant investments, combined with our commitment to offer Made in Italy top quality services are core values that guide our work.